In this week's free and oh-so-timely episode of Deke's Techniques, Deke shows you how to create the ubiquitous internet optical illusion in Adobe Illustrator. You know the one: see if you can see all twelve dots in the grid below.
Besides showing you how to create an exact replica of the image that "broke the internet" last week, this week's episode does the following:
Allows you to prove to yourself (because you created it) that all twelve dots are actually there because you used Illustrator to put them there yourself. Thus avoiding the "existential crisis" that this illusion created amongst the less scientifically inclined.
Reveals that the illusion is dependent on the size and resolution presented to you (because when Deke holds up the printed version at the beginning of the episode, I can see them all without difficulty.) It's interesting that my ability to see all 12 dots sort of depends on how big my screen is, whether it's a video of Deke holding up a piece of paper or the digital file, and how much wine I've had (answer, more wine = the ability to "focus" on more dots at a time).
Shows you how to use the Transform effect in Illustrator to replicate important cultural events to exact scale.
Demonstrates that the effect works in different colors…
And inverted…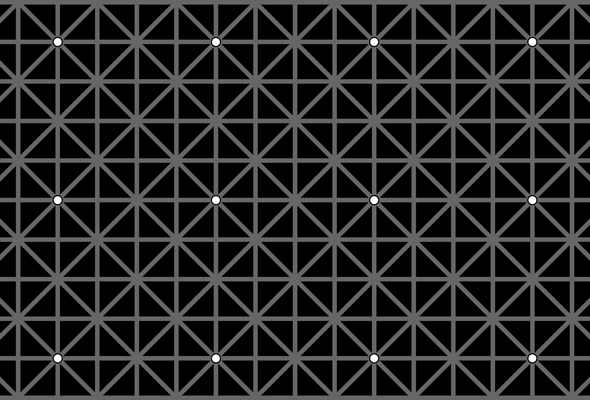 (Although I feel it's easier to see all 12 dots at the same time in this inverted one. Maybe I'm a witch!)
And, perhaps most importantly, this episode invites you to waste ever more time going down the rabbit hole of visual illusion phenomena on the internet. There's even a follow up movie this week in which Deke shows you how to create the scintillating grid effect which is sort of the neurological grandparent of this current fad.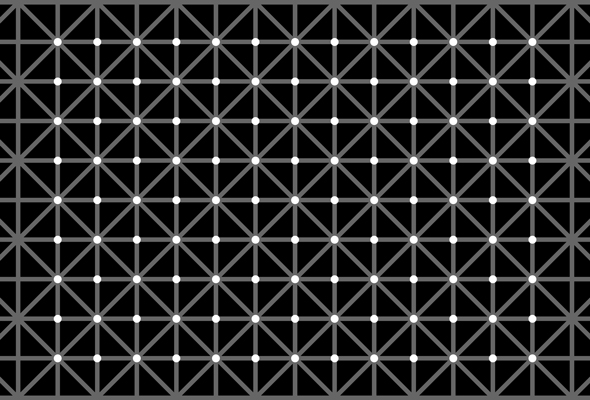 (Not a member of Lynda.com? You can sign up for a free 10-day trial at lynda.com/deke and watch this and all 549 movies that came before.)
Deke's Techniques, pulling back the curtain on the internet-based illusions!