In this fortuitously timed free episode of Deke's Techniques, Deke shows you how to blend two photographs in order to create one epic photo with the composition and the color you want.
And the timeliness is twofold, since the subject of this week's project is creating a photo of an entire blue-ringed octopus presented with his rings actually shining out from his body in all their glorious blueness. First, the world has been enchanted this past week with the daring escape of Inky the Octopus from his aquarium in New Zealand. And second, the world will soon be enchanted with a couple of excellent underwater photography courses taught by Deke and our favorite underwater photo instructor, Hergen Spalink.
(In fact, it was just yesterday when they wrapped up recording that I let them escape their booth so Hergen could return to Indonesia. Deke and Herg actually figured out how to turn door handles!)
So anyway, the thing about this blue-ring, despite all his properly awesome octopusitude, he's only about three inches "tall." So finding him was a weeklong quest of our dive trip to Lembeh Strait in Sulawesi. Then, once our intrepid guide Fandy showed us the creature, the trick was for Deke to capture a) the whole thing in one frame, and b) capture it while it's blue rings were on display.
So the trick this week is to let Photoshop meld the two pictures of a) all of Blooey in one frame: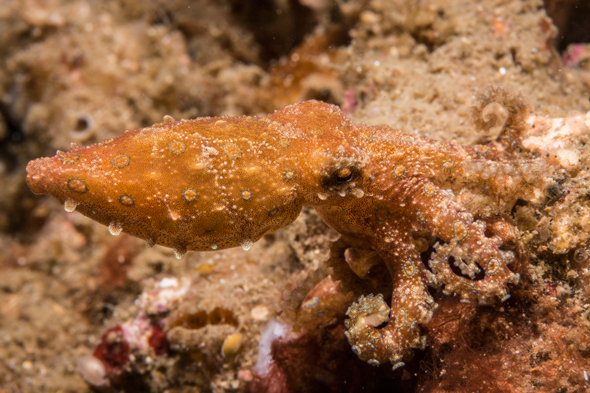 and, b) Blooey showing off his irritation at our visit, and by extension, his lovely blue rings.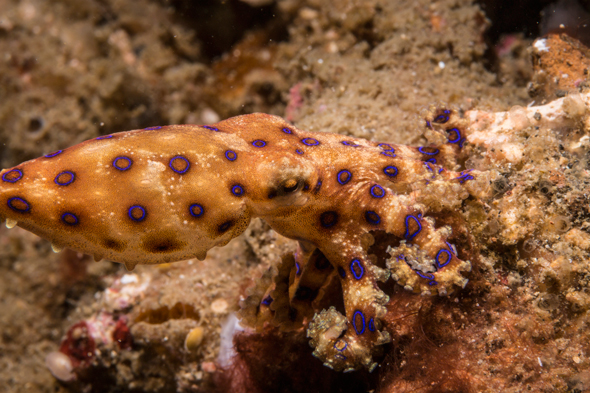 In a display of masking and reconstruction, Deke is able to do both in Photoshop: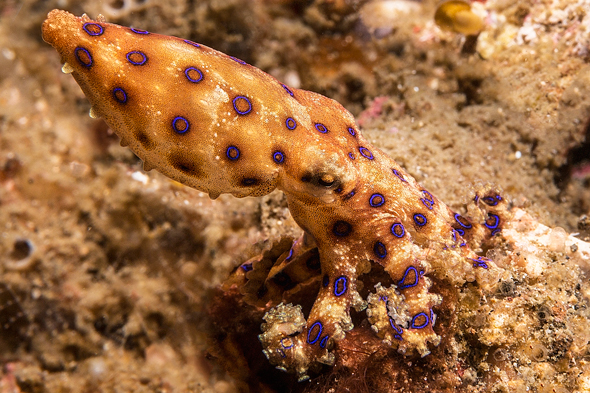 If you're a member of Lynda.com, Deke also has an exclusive movie this week in which he shows you how he recreated Blooey's octopus garden, after rotating the original image for a more pleasing composition.
If you're not a member, you can get a free 10-day trial at lynda.com/deke.
Deke's Techniques, bringing you the daring, colorful, fully irritated creatures of the sea!