Note from Monday morning: As I post this, Texas is being inundated by flooding from Hurricane Harvey. I can't think about the awesome natural phenomenon of the total solar eclipse without thinking about the destructive power of nature as well. Our thoughts and admiration are with the brave people of Texas and those who are there helping them.
As you may know, there was an eclipse here in the States last week. This is one of the amazing photos Deke shot during the moment where the moon completely covered the sun and we all stood in amazement
We had such an epic adventure trying (and I think, succeeding) to experience (and photograph) the "Great American Solar Eclipse," that I thought I would recount the tale here in all its technology-learning, friendship-forging, heart-pounding, mind-transforming phases:
Phase 1. Standard Operating Procedure: Hatch Half-Cocked Travel Plans in Our Local Brewpub
So, Deke and I have a history of hatching vacation schemes right after putting away our second beer; since our favorite dive and travel shop is in the same complex as our favorite brewpub, this usually results in an un-previously scheduled dive excursion to some heretofore unknown locale.
But this time, it was just me casually mentioning, "Hey, we're one of those millions of people within a day's drive of the solar eclipse totality, we should go see it somewhere." We immediately started calling our much-more-organized friends and found out that a) they had all had reservations in X-ville, Oregon or Y-town, Wyoming, and b) they had made these reservations up to a year ago.
Well hey, I thought, studying the map of totality, "Carhenge would be suitably absurd, and it was a mere four-hour-drive away in Alliance, Nebraska." I found a cool-looking "Bunkhouse" on AirBnB a few miles away from the 'Henge, and we snapped it up. (More on this later, but best AirBnB hosts ever.)
Phase 2. Seek Technical Guidance from Serious Folk: a.k.a. Paging Seán Duggan
Seán is generous, kind, funny, and seriously knowledgeable colleague from Lynda.com author-hood (as well as previous lives in the book publishing industry). Sean has that (aforementioned) combination of attributes that makes someone a great teacher, even for lazy, last-minute students like us.
Seán sent Deke a personal email guide for gear and other considerations, and it was so generous that I asked him to write it up as a full-length article for deke.com. (Oh, and here's Sean's time-lapse of the totality from John Day Fossil Beds, Oregon. Yeah, we know where to go for our insider info.)
Phase 3. Get the Gear: It's Not Just Unchecked Shopping. There's Research Involved
We had our Canon 5D Mark III and Canon 70D cameras to work with, but the longest lens in our arsenal was a 300mm zoom that hadn't been cleaned since our Sri Lankan elephant safari. The shopping list went as follows:
A fixed Canon EF 400mm f/5.6L lens was about half the cost and a fraction of the weight of a zoom version and since Deke wanted to frame the Sun "as close as possible," the zoom seemed superfluous anyway.
A Canon 2X Extender gave the above what amounts to an 800mm lens, for 16x magnification.
I got two sheets of 4x4 solar paper from Thousand Oaks Optical to affix to the lens for pre- and post-totality shots. For affixing it to the lens in a temporary way that could be removed at totality, we packed a roll of masking tape and some rubbery hairbands that I once had to have Deke cut out of my hair they were so stupidly grippy. (Ended up just using the grippy hairbands; the few wrinkles didn't matter much when all that gets through is the partially eclipsed sun.) Total aside: One of my favorite shots of the day was when Deke quickly tried to get the filter back on at the end of totality:

Tripod-wise, I went with the Sirui T2005X TX Series tripod and Sirui G-20X ball head. As DPReview had pointed out, the cost of the two pieces together were comparable to other portable tripods that came with the head included. It's very lightweight and compact, yet in the end it stood up fine to the Nebraska winds. (This is the piece I coveted most from Deke's new setup.)
With regard to eclipse viewing glasses, I was one of those people who ordered some cool-looking plastic eclipse glasses from Amazon that claimed to meet safety specs. After they arrived, I was put on alert by the badly designed packaging and sketchy labeling (designers take note of this when you're making forgery eclipse glasses). I tossed them out and went back and bought NASA-approved paper versions. I wrote off the cost of the originals to my own lack of proper research, but a few days later Amazon spontaneously refunded my money on the first set and instructed me to throw them away. (Done! Thanks, Amazon.)
The PhotoPills app that Sean had suggested helped with location scouting, which didn't matter so much with Deke's sun-only shots, but without it, I wouldn't have known where to frame my windmill.
A bottle of Leopold Bros Navy Strength Gin not only makes easy martinis, but at 114 Proof it could easily provide makeshift antiseptic/lighter fluid in the event of an eclipse-car gridlock-apocalypse. Sure, we had water and snacks as well. Our host, Tom, who we bonded with immediately over G&Ts called drinking it "going navy style." (We really liked our hosts.)
Phase 4. Hitting the Road: Arrive Late Despite Lack of Expected Traffic
In the week leading up to the eclipse, The Denver Post had written up Alliance as "The Place to Go," Harrison Ford (or was it Johnny Depp, Duane Johnson, Snoop Dogg, all of the above?) had allegedly booked the lone Alliance B&B. The Alliance regional airport had declared its incoming flights "full," and the Governor of Nebraska was now announcing that's where he was headed. In the end, traffic getting up to Alliance wasn't bad, but it did take the McClelland sons almost twice as long to get home on Monday. (Deke and I relaxed and worked on photos in the Bunkhouse until Tuesday.)
Phase 5. Meet Tom and Stephanie: Would You Like a Gin and Tonic?
We seriously would not have had such an amazing experience without Tom and Steph, our AirBnB hosts. They not only plied us with our favorite cocktail (and conversation, until 4:00 a.m., notoriously) the first night, but provided ranch tours, had us as their guests to their Eclipse Eve BBQ, regaled us with veterinary surgery stories, organized gin/tequila/whiskey tastings, cooked us a real Nebraska steak dinner our last night, and gave us all the support and encouragement we needed. We consider them friends now and were sad to say goodbye on Tuesday.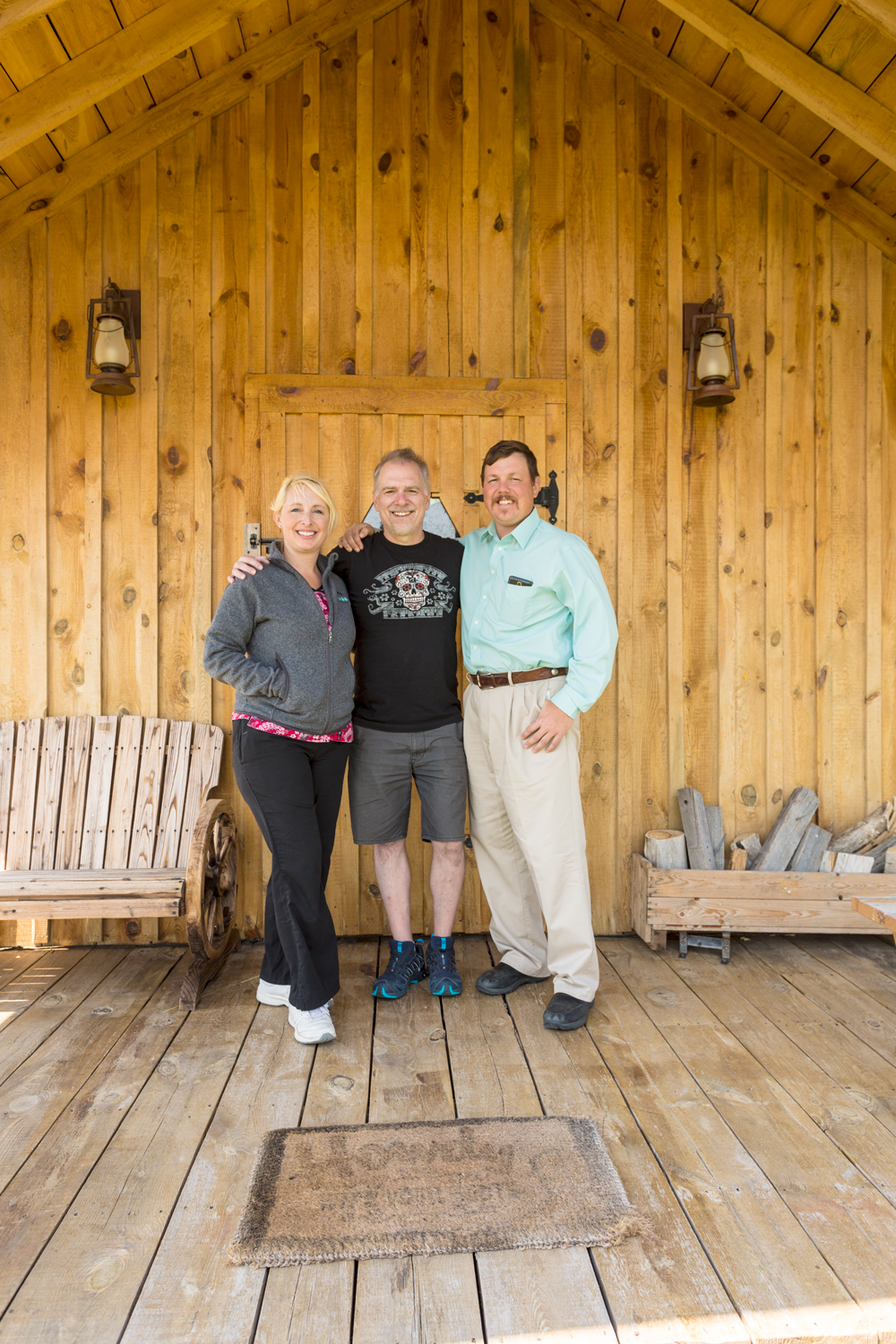 Phase 6. Practice Run: You Wouldn't Think a Giant Gasball Would Be So Hard to Find.
Sunday, we got all the gear put together and Deke started to take aim at finding the sun. Unfortunately, the eclipse was due to appear almost directly overhead (totality was at 11:50AM in Nebraska). We practiced the dance of trying to frame the sun: eclipse glasses on, filter on, eclipse glasses off, reading glasses on, repeat. Deke ended up switching from the 5D to the 70D thanks to its flip-around LCD screen which made for much better photo-taking posture.
Deke's taking the 70D left me with the 5D or the GoPro for my planned time-lapse. Since the 5D needs an intervalometer (which we didn't have) and I've used the GoPro at depth with sharks about, I decided to go with the camera I knew. Lesson: use the right tool for the job, which in the case of cameras is the one you know how to use when the pivotal moment comes.
Phase 7. On Location: When the Sun's Here, the Windmill Will Be…
We checked out Carhenge, which was surrounded by campers on Eclipse Eve, and even spoke to a photographer who was set up in the press area. The scene wasn't as crazy as we thought, but in the end we decided to shoot the eclipse from a watering hole in a secluded pasture on the Furman's ranch. (That didn't stop Deke from making a composite with Carhenge and his actual eclipse photos later on.) This photo is a 100% fake composite with 100% real images of the solar eclipse phases:
Our host drove us around the pasture looking for the right spot. Since Deke was just shooting the sun, the foreground scenery wasn't as much of an issue as having freedom of angle and no one kicking his tripod. For me, the windmill (and its reaction to the eclipse wind just before totality) gave me a unique outcome (as you'll see).

Phase 8. Setting Up: Who needs a tripod when there's a fortuitous hole in the back of the utility vehicle?
Being out in the pasture gave us room to move, and gave the McSons room to run around while we waited. I used a random hole in the cargo area of the Ranger Utility vehicle Tom left for us to wedge in the collapsed tripod part of my GoPro stick. (Given the wind, the stick's silly little fold-out tripod would have been useless, but collapsed it made a nice cone-shape that fit fortuitously in a random hole in our borrowed vehicle.)
Phase 9. Where Did Those Clouds Come From: Ack! How Many Minutes to Totality?
Can't imagine the McClelland sons being cooped up at Carhenge for an hour or more waiting for a naturally occurring astronomical phenomenon. Instead, they roamed the pasture, climbed the sandhills, and looked for food, which is pretty close to how they spend any outing. When we first parked out in the pasture, there was nary a cloud in the sky. But as totality approached, we held our breath and watched the sky…
Phase 10. Wind and Darkness: A Fortuitous Break in the Clouds
You can tell things are getting serious in this time-lapse when Deke goes to put on his jacket. Check out how close we were to being thwarted by the clouds. Best of all, check out what happens to the windmill just before totality:
And in addition to the amazing Deke captured above, here's another favorite:
Epilogue: There is No Partial Eclipse, There Is Only Totality.
I'd seen partial solar eclipses before, but the complete blocking of the sun (and the kindness of our hosts) is an experience I'll never forget. We'll definitely seek out "the full monty" for the next one.