Hey, Gang. How'z your 2021 going? I know. No sooner had our family celebrated the finale of 2020 by acquiring COVID-19 sometime in mid-December and then getting our negative tests back two weeks later on New Year's Day (seemed auspicious at the time)...then, well, this week happened.
Note: We're all feeling much better than we did (disease-wise, at least) and we got wonderful encouragement from Deke's Facebook friends during the darker days. We are so lucky to have all your good vibes! Now please send them to our country.
Anyway, maybe you're ready for something simple and delightful for a few minutes. In that case, might I recommend this week's free Deke's Techniques episode, in which Deke introduces you to Illustrator on the iPad—a real-life working version of your favorite vector wrangler that fits on your tablet.
Before you jump in though, I just wanted to point out that Deke starts the video with a new file already open. If you're interested in working with Deke's file (I'll attach it for download at the bottom of the post), or you have a file of your own that you want to experiment with, then you will have to open the file in regular Illustrator on the Mac or PC, save it to the cloud, and then open it on your iPad.
And, here is how you do that. Once your file is open in Illustrator on your computer, choose File > Save As, then CLICK THIS BUTTON: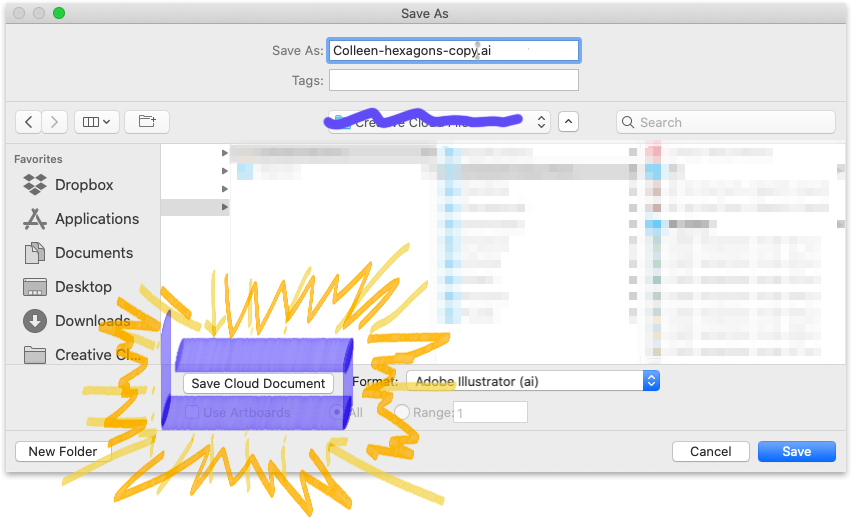 I really shouldn't shout this week when our collective nerves are already jangly, but it's very possible that you, like I, might stumble across some old information that tells you to save the file to a Creative Cloud docs folder…and…well don't. Just Save As and click the Save Cloud Document button. No one needs extra steps or stress this week.
Note: The dialog box above is from my Mac; Deke works on a PC and says things will look different but act the same.
Next week, actual art-making with Illustrator on the iPad. We'll probably need some real art therapy by then. Love and peace and health to you, my dekeItonians.
Related downloads
Exercise Files for Deke's Techniques Episode 954
Log in to download these files.